I often get asked what kind of supplies I'm using for my bullet journal. Though I think it's always smart to start simple and build up as you need it, I have gathered quite the collection along the way. Here's what I use and why I use it.
I'm a firm believer that you don't have to spend a ton of money to get started, you could start a life-changing journaling practice with a $1 composition notebook and a box of Crayolas. The point is to start! (Also if you do that, please send me pics. It could be awesome!) But I'm also of the opinion that a little treat — a little something special — keeps the motivation flowing. You won't avoid your planning routine when you've got a shiny new fountain pen begging to be used. You get a cool new gym bag when you finally commit to that gym membership, right? Just me? Well, anyway,  I'm of the school of thought that says "Be nice to yourself, and yourself will be nice to you." You won't find tough love from me.
So, here we go: my current favorite supplies to rock a bullet journal.
*This post contains affiliate links. You never pay more,  but I may recieve a small commision that supports the running of this site and all the free content you love. I never recommend a product unless I have used it myself and loved it!
Skip to:
Notebooks
Of course, you need something to write on. There're so many, and, after going through a dozen with them falling apart — ink bleeding through the paper, etc. — these are my favorites.
Leuchtturm 1917

This is a popular one in the Bullet Journal community and for good reason. The Leuchtturm1917 is sturdily built with high-quality paper and is optimized for organization. For instance, it comes with pre-numbered pages and an index, making it ridiculously easy for you to keep track of where you sketched out that random idea, or where you wrote the address of the party you're late for. Before I started my Bullet Journal obsession I was intimidated by the dot grid variety — there was so much opportunity for mistakes! But now that I've taken the plunge, I'll never go back. The dot grid allows so much freedom to design layouts, doodle ideas, and pretend you're just naturally good at drawing straight lines. It has a hard cover and that's a requirement in my book. My bujo travels in my purse with me almost everywhere I go, and without the hardcover, it would surely be in tatters by now. It has two bookmarks which allow me to keep track of my current day AND a collection of long-term lists/plans. This notebook really lives up to the hype. It's basically my BFF of inanimate objects. I like it so much in fact, that I frequently give them away to future Leuchtturm enthusiasts. If you interested in winning one of these beauties for free, enter your email here for a chance to win!.
Rhodia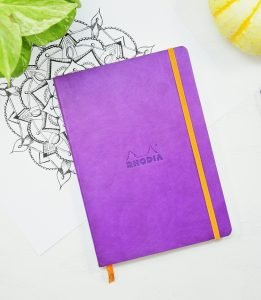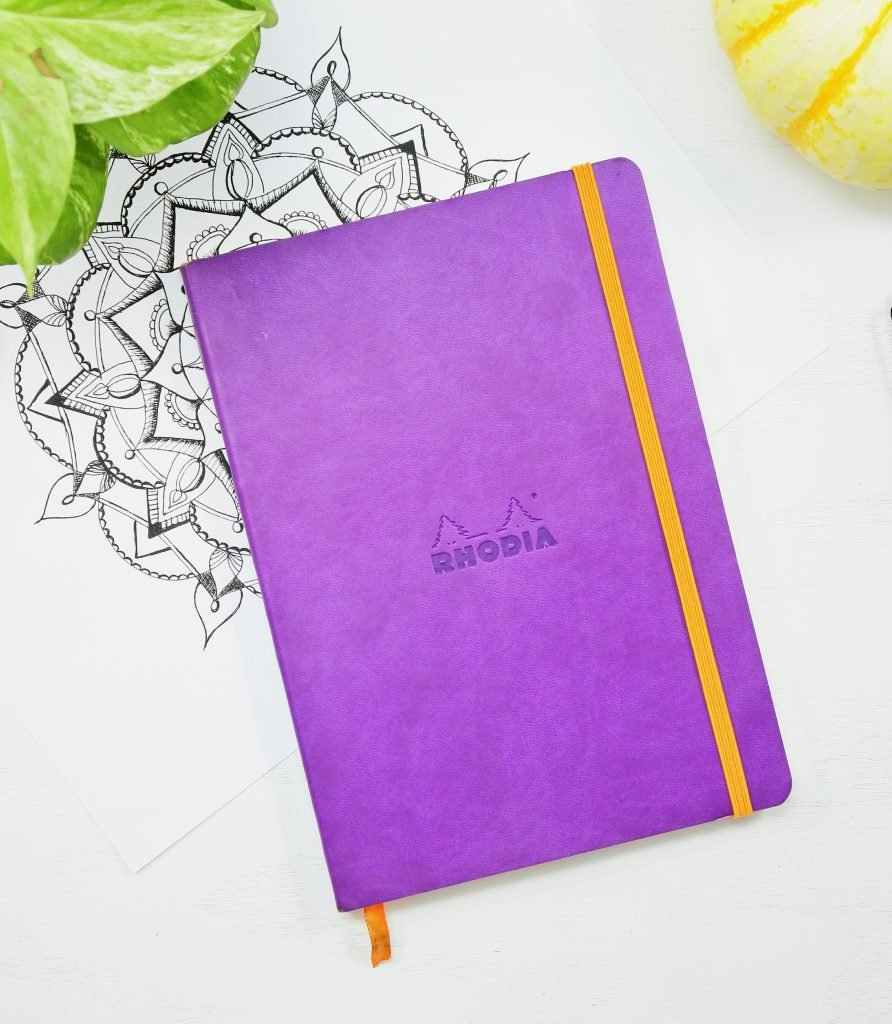 I currently use a Rhodia Rhodiarama (in purple) as my Morning Pages journal. If you're unfamiliar with Morning Pages, I highly recommend the book The Artist's Way, and it's updated companion The Morning Pages.  The Rhodiarama is a soft cover notebook with a nice leathery texture and an elastic closure. It has one bookmark and a sturdy pocket on the back cover for whatever you might want to carry with your notebook. The paper quality is actually significantly better than the Leuchtturm! It's thick and silky and your pen glides over it like a dream. The only thing holding me back from making it my official Bullet Journal is the soft cover. My bujo gets used A LOT, and I feel the hardcover is very necessary. Rhodia does carry a hardcover journal with your choice of dot and lined paper called the Rhodia Webnotebook, but sadly, the only colors available in the dot grid are orange (is the new black?) and black (is the old black). Despite my preference for black clothes, I want my notebooks in color. It's a shallow concern, but I want what I want. If Rhodia ever puts their dot grid Webnotebook out in a variety of colors I will jump at the chance to buy one! (Hint, hint, Rhodia.)
Pens
Pilot Metropolitan
This baby is the fountain pen for people who don't like fountain pens. The Pilot Metropolitan is light and easy, not terribly expensive, and comes in a large variety of colors and designs. You get the satisfying ink flow of a fountain pen, without the mess that can sometimes accompany it. Personally, I'm still a fountain pen newbie, and though I'd love to wield one of those crystalline dip pens like a wizard in my high tower, I'm going to need to work up to that. And so will my wallet. This pen takes the intimidation out of fountain pen joy, and I highly recommend it for beginners.
Lamy Safari
The Lamy is another high-quality fountain pen that is very user-friendly. It has a heavier ink flow than the Pilot Met., and while that's a selling point in some ways, I find I make mistakes more frequently when they are the hardest to cover. I like to use this pen for my Morning Pages because the heavier flow of ink encourages me to keep writing at a steady pace. I'm also less concerned with mistakes, because the goal of the Morning Pages is getting the thoughts out, and it doesn't have to pretty. In fact, it's better if it's not. I have both the Lamy AL-Star and the Lamy Safari. The Lamy AL-Star has a smooth metal body and a bit of weight to it, which feels wonderful in the hand and makes what I'm writing seem extra important. The Lamy Safari has a plastic body, slightly rough texture and is very light weight. This is great for hauling around in your bag since it can take a beating and travels well (hence the name). Both make it extremely easy to replace the ink — no youtube videos required. All and all, a fantastic pen.
Pencil
Pentel Twist-Erase Mechanical Pencil
I love to start my plans, spreads, ideas in pencil — with the ability to erase mistakes from existence. Doesn't everyone do this? It's especially important when you're first starting out because you definitely want the ability to change your mind on the fly. I personally love a good mechanical pencil because the lead is always sharp. I picked up the Twist-Erase Mechanical Pencil not expecting much but it's been a joy to use. The best thing about this pencil is the eraser. It comes with two long erasers, so even if you're an erasing machine, it'll be a while before you need to replace it. This pencil is cheap and easy to find, and I highly recommend it!
Markers
Staedtler Fine Liners
I'm in love with these pens. Staedtler's come in beautiful, brilliant colors and a .03 fine tip, enabling lots of detail (and teeny tiny doodling). They come in wonderful color sets, and the packaging is smart and functional. Flip it open and you have your own personal pen stand. Once I got myself addicted to the 10-pack and craving new colors, I got the 36-pack of every color they make (including neons). Amazon runs great deals on these bigger packs, making each pen that much more affordable. Sadly, the big packs don't come with a mega container/stand. They do sell sets that come with their own roll up pen case, and in hindsight I wish I had purchased one of those first. Top of my wish list now! Till then,  I carry all my pens around with me in a purple bag. Like a bag lady.
Tombow Brush Pens
I've only recently begun trying my hand at calligraphy, but I can see addiction on the horizon. The  Tombow Brush Pens are an industry standard and perfect for beginner calligraphy. There is a fine tip for precision on one end and a brush nib of the same color on the other side. This is great for adding a little flair to your lists and musing with twirly letters and colored ribbons. I currently own the muted pack, but I've got the portrait pack on my wish list.
Bonus Decor
Washi Tape
Washi tape is not too sticky, so you can move it around easily.  It's okay for light repairs but it's mostly for decoration. It comes in hundreds and hundreds of different designs and patterns so you can customize your pages to your heart's content. If you're not much of an artist, but still want to add some fun personality to your notebooks, this is definitely the way to go! You can usually find plenty of varieties at your local craft store, and you can also order packs of it the here.
I Hope This Helped
That sums up my current favorites. These are all the little things I'm using to organize (and decorate) my life. I'll continue to update this list as I try new things.
Of course, you're already equipped with the best journaling tools — your brain and your own two hands. You don't need a stack of art supplies to be productive, but I must say: they do help. A great tool that's a pleasure to use keeps me motivated day after day to keep recording my life, keep writing, and keep growing. So, though I don't think you need to be a fancy pants to keep a bullet journal, I do think rewarding yourself with beautiful things keeps the soul ready to work.
Any favorites of yours I need to add to my collection? Let me know in the comments!