Finding the perfect Bullet Journal notebooks can be a daunting task. It's not always easy to find a dot grid notebook, and once you do it's easy to get overwhelmed with the details.  I've been Bullet Journaling every single day for over 2 years now, and I've tried a lot of notebooks along the way.
I've narrowed down your search to the best and the brightest. These 5 notebooks have stood the test of time and are sure to please options for every variety of journaling. So if you're looking for a sure thing – look no further. I've got you!
5 Notebooks Perfect for Bullet Journaling
All the notebooks I show you today have their own pros and cons. Keep in mind your personal needs when making your decision.
Leuchtturm1917
Features
249  Numbered pages
2 bookmarks
3 Page Index
Large back pocket
Perforated tear out pages in the back
$17.95 – $25.50
The Leuchtturm1917 might be the most popular notebook for Bullet Journaling and for good reason. In 2 years of Bullet Journaling, I've used  3 Leuchtturm1917s and they all held up extremely well to everyday use. Leuchtturm even released an official "Bullet Journal " edition of their notebook, with extra features and in-depth instructions. This version of slightly more expensive, but a great option for a beginner who could use some training wheels.
Leuchtturms come in 4 different sizes, a variety of colors, as well as dotted, lined and squared versions. This makes them one of the most customizable notebooks around. The average cost of these superstars is $17.95 – $25.50.
Pros
The Leuchtturm1917 is exceedingly durable and can withstand lots of abuse. If you're a heavy everyday user, the Leuchtturm will hold up like a champ.  And 249 pages means it will last longer than some of the other notebooks on this list, so you are buying journals less often. I also love that it comes in any color imaginable! You literally have a rainbow of options! Overall, the Leuchtturm1917 is one of the best notebooks you'll ever own and is in some ways the ultimate Bullet Journal.
Cons
While the paper is decent quality, it is thinner than all of the notebooks on this list. This means you will have some bleed thru with heavier pens or markers. Make sure you test your pens on some of the tear-out pages to avoid a mess.
Features
201 Numbered Pages
Premium Paper (100SG)
Built-in Key and Color Code page
2 Pen test pages
Large back pocket
2 bookmarks
$19.99 – $25.00
I'm currently using the Scribbles that Matter notebook for my Fall Bullet Journal and I have to say, I'm in love. These notebooks are high quality and so much fun to use. Their hardcover is a plush leatherette that feels great in the hand and is easy to wipe clean. They come in an iconic version and a pro-version. As far as I can tell the only difference between these versions is the original has a cover heavily embossed with their signature doodles, and the pro version is embossed only along the spine and lower back.

Pros
There are a lot of wonderful reasons to choose this notebook. The paper is extremely high quality – thick and smooth and resistant to bleed thru, making it a dream to write on. And a built-in Pen Test page in the back ensures you'll never ruin your new pages. The built-in Key and Color Code is also a really fun feature, giving you more ways to customize your journal with less work on your part.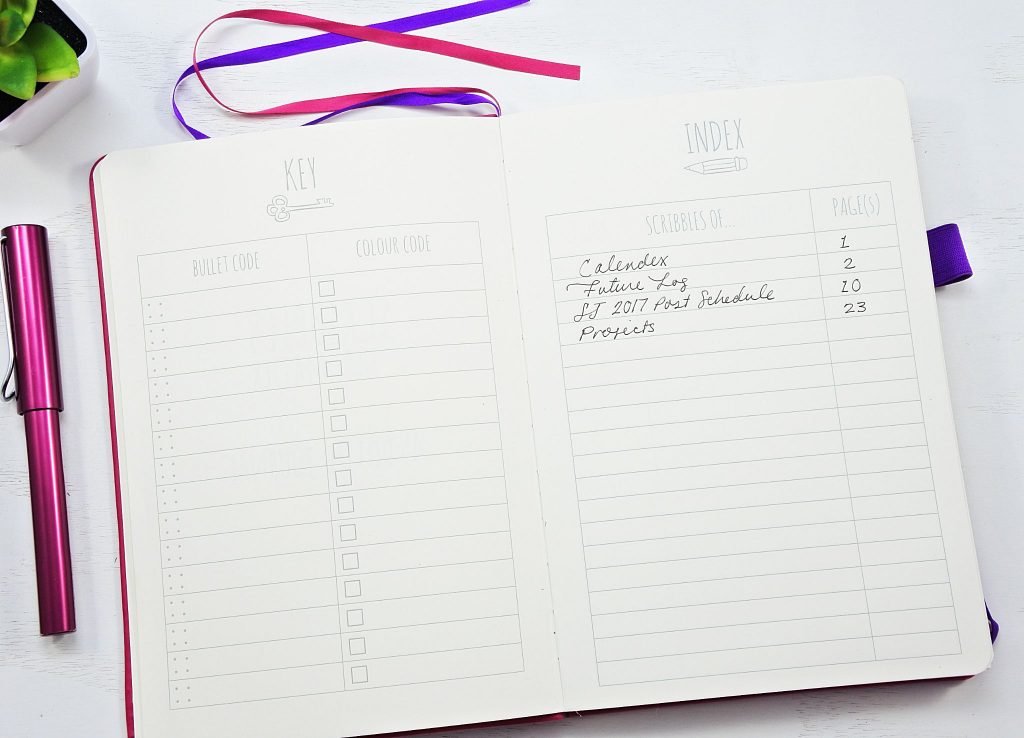 This is also one of the most affordable notebooks on the list and they now have come in three new pastel colors!
Overall, I'm so impressed with this notebook and I will be using it again and again on my Bullet Journal journey! Highly recommended!
Cons
At 200 pages, this won't last as long as a Leuchtturm1917. This isn't a deal breaker for me, but it's something to consider if you want to buy notebooks less often. The pen loop on the side is also subject to break, as almost all pen loops are.
Dingbats
Features
1 bookmarks
 Inner pocket
192 numbered 100gsm  pages
 All pages micro perforated
 Pen loop
Vegan PU Leather
Elastic Closure
$19.95
Dingbats has some of the highest quality paper on the market today. They apply a speacial coating to their paper that makes it practically bleed proof! In my Dingbats notebook I created a pen test page to test their bleed proof claims.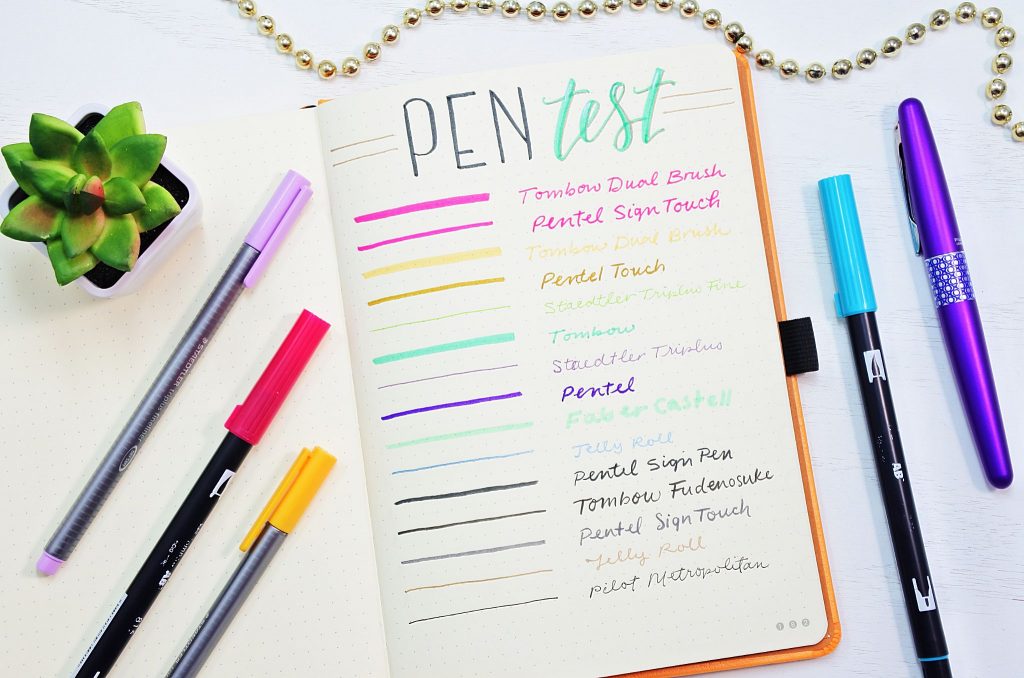 The paper held up amazingly well! If ghosting and bleed thru are a big concern for you, definitely give Dingbats a try!
Dingabats also stands out in that all their notebooks are 100% vegan. No animal will ever be harmed in the making of their leather or paper. To learn more about these fantastic notebooks, check out my in-depth review of their brand new Earth Collection!
Rhodiarama
Features
Leatherette Cover
80 Sheets of Premium Paper
1 Bookmark
Expanding Inner Pocket
The Rhodiarama is a soft cover notebook with a rich leatherette cover. It comes in a small variety of colors that while beautiful, are limited. Each color comes with the signature orange elastic closure and orange inside cover front and back. It's a fun contrast. This notebook is great for the minimalist who doesn't want a lot of bells and whistles. What it lacks in features it makes up for in incredibly high-quality Clairefontaine paper. If bleed thru is a deal breaker, this is the notebook for you!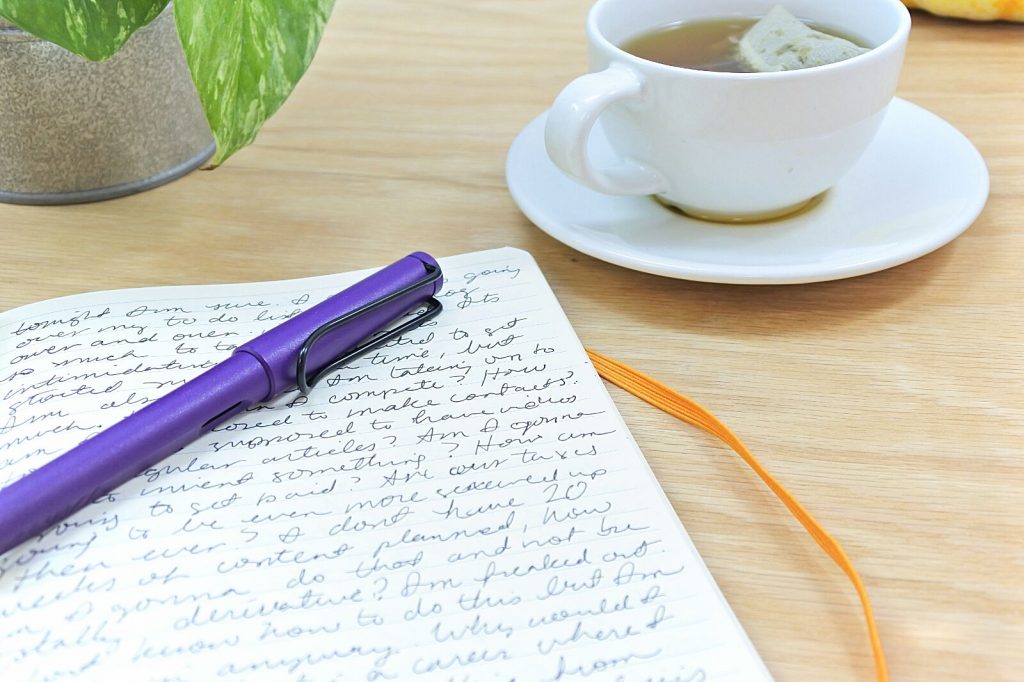 Pros
Two words – Clairefontaine paper. This paper is hailed by many experts as the best paper in the world. This paper will turn you into a paper snob. Pinkies up, everyone!
Cons
At 80 pages, you'll get to the end quicker. But if you're a minimalist when it comes to your journal that may not be a problem for you.
Features
192 pages Numbered Pages
90gsm Clairefontaine Premium Paper
Expanding Inner Pocket
Built-In Index
This is a wonderful offering from Rhodia with a plush leatherette hardcover and 196 pages. It comes in 3 colors – orange, grey and black. I prefer the a5 size ( roughly 5×8) but it comes in a smaller and larger version. With a built-in Index and the amazing Clairefontaine paper, this is an excellent and affordable choice for a Bullet Journal!
pros
Clairefontaine paper is the star of this show. Hailed as the best paper in the world, these buttery smooth pages are virtually bleed proof with minimal ghosting. This notebook also lays very flat when you open it, which is extremely helpful when you're drawing out a spread. With the best paper on the block and an affordable price, this is a fantastic option for Bullet Journaling!
Cons
The only con I can see in this wonderful notebook is its color limitations. Not being particularly fond of any of the 3 colors available, I'm a little less likely to pick this as a journal I'll be looking at every day.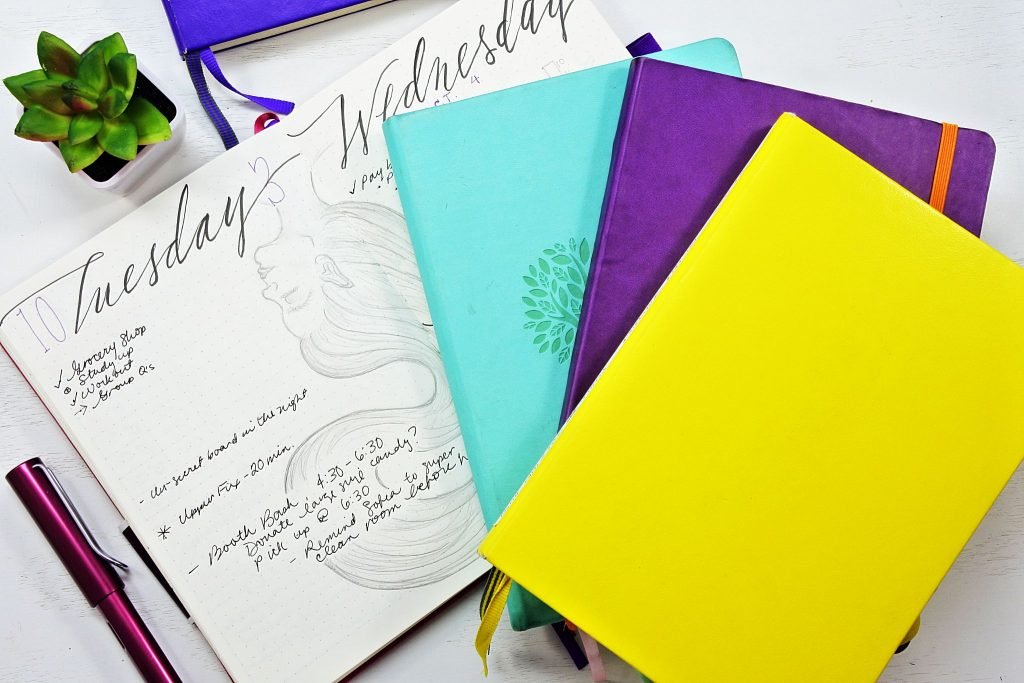 I hope you've enjoyed this round-up of some of the best notebooks around! Which notebook would you choose? Have you used any of these for your journaling? How did it go? I'd love to hear your experiences and suggestions! Let me know in the comments!
Happy Journaling!
Need the perfect pen to go with your perfect notebook? Check out 8 perfect pens for journaling!