2018 is around the corner and for planner junkies like me, it's a very exciting time!  January 1st hits and even the most planner averse among us are motivated to set some goals. But getting organized is hard. Where should you start? How do you keep up your motivation after January 1st? My solution is a DIY planner! DIY planners are cheap, infinitely flexible and designed specifically for your needs.
Do you want to get more organized in the new year, but just don't have the time to create your own planner? Don't worry, I've got you covered!
I've worked hard to create the ultimate planner printables so you can get organized the easy way! What are your goals for the new year? Pay off debt? Lose weight? Go on a fabulous vacation? Whatever your new year's resolutions, I've got the planner printables to help you make it happen! 
This year I've designed 3 packages. One for setting up your planner for the new year. The second for planning the month of January and having some fun with it. And the third is the big kahuna. You get every page for both the year and the month to keep you ultra organized for 2018 and ready to succeed!
Each pack comes with free printables, so be sure to scroll down and grab your freebies!
2018 Planner Starter Pack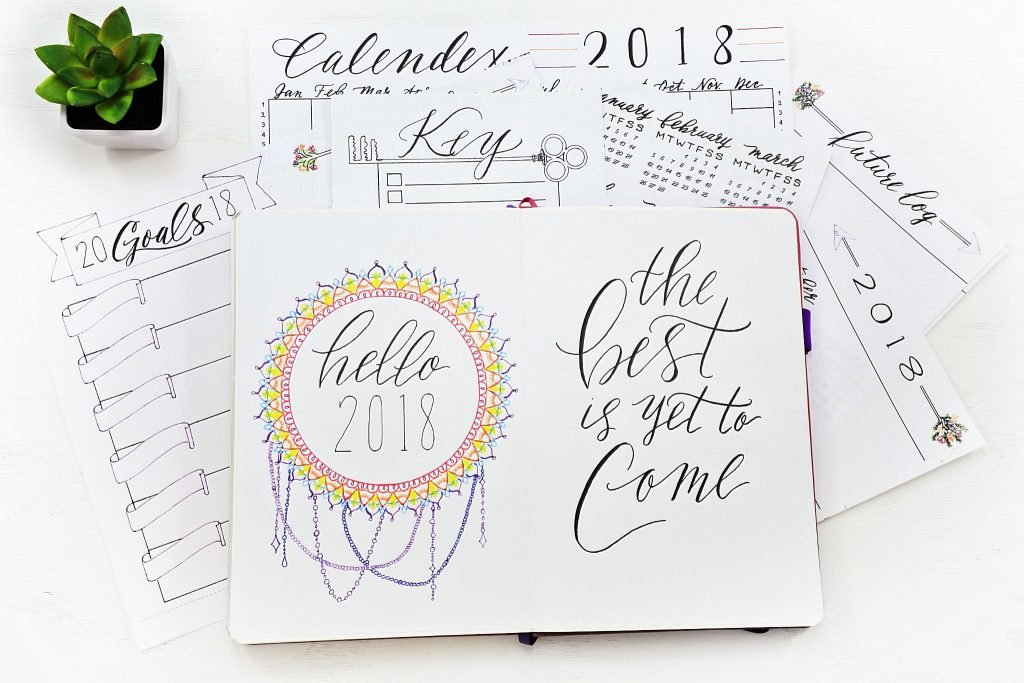 Starting a planner at the beginning of the year is all about setting goals and organizing your planner so you can keep track of those goals over time. I've created 12 pages to get you started with your planner and get organized the easy way! Here's what you'll get in the 2018 bundle:
Hello 2018 Cover Page
Quote of the Year
2018 Goals
Also Work On : A bucket list of things you want to accomplish that aren't time specific.
2018 Calendex
Year at a Glance Calendar
Planner Key and Color Code
2018 Future Log
Here's a look at each page and an explanation of what this can do for your yearly planning.
Hello Cover and Quote Of The Year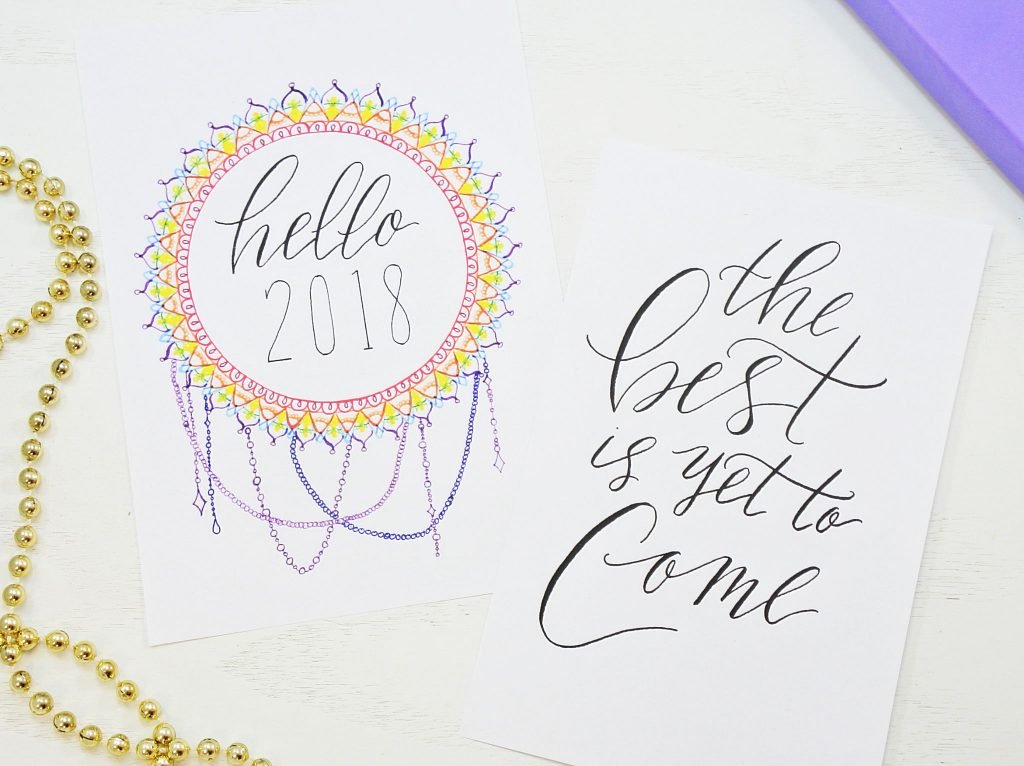 2018 Goals and Bucket List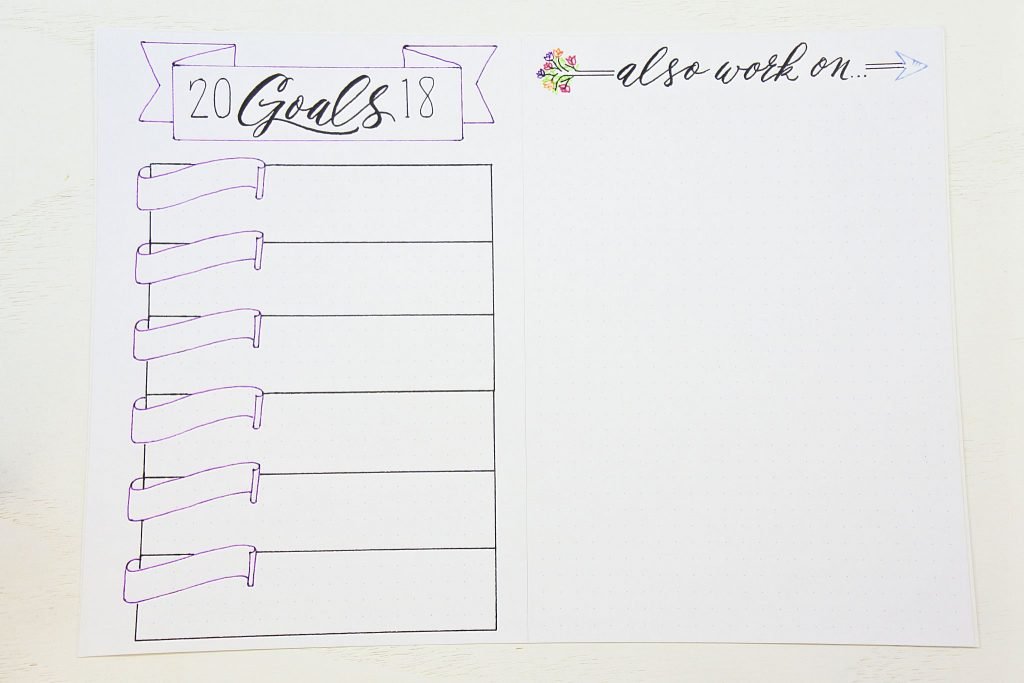 With this goal page, you can get specific about each area of your life and what you'd like to accomplish. After all, we all wear many hats. Wife, Mother, Business Owner, Career Woman, Homemaker, Spiritual and Physical beings. Write the role or area of your life on the ribbon and then outline a goal for each. Being specific keeps you from getting overwhelmed and helps you concentrate on one thing at a time.
On the next page let your mind roam. Imagine things that you would like without worrying about how or when they can be accomplished. This brainstorming is a great reference for future goal planning and helps you discover what's really important to you.
Year at a Glance & Key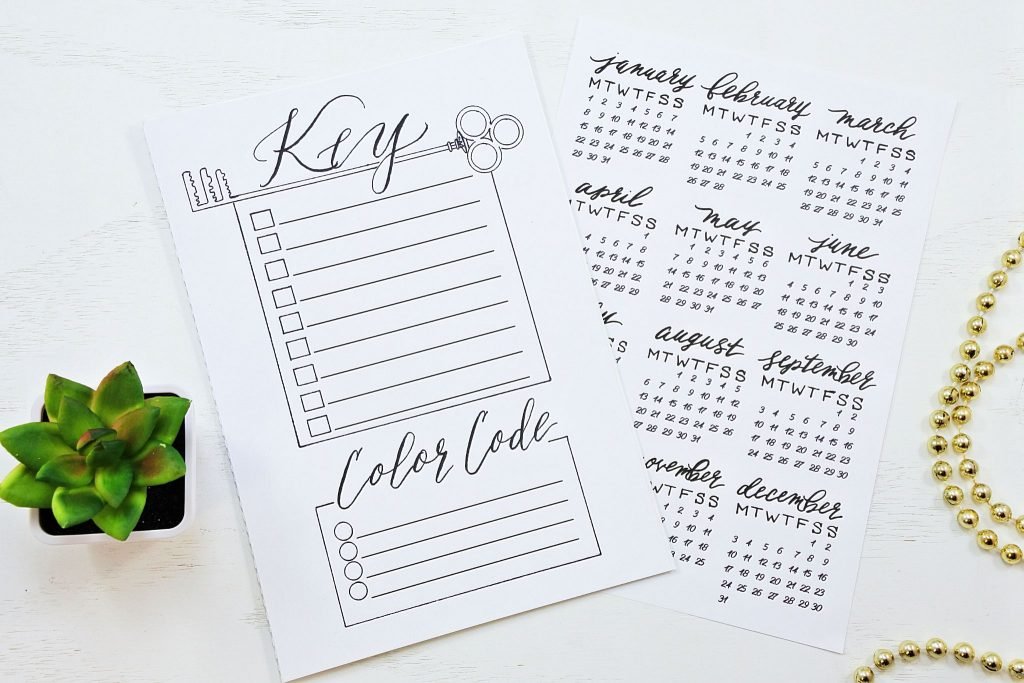 Here we set up the structure of our 2018 planner with a Key and a Year at a Glance calendar. Using a key, you can customize your journal to your own needs. Defining your icons (check mark, x, arrow, etc.) means you keep your planning sessions quick and efficient. A color code enables you to see at a glance what you need to do.
A year at a Glance calendar is incredibly convenient for future planning, but a pain to write out on your own. Don't worry, I've done the work for you! Just print and stick and you've got reference page you'll refer to again and again – minus the hassle!
Calendex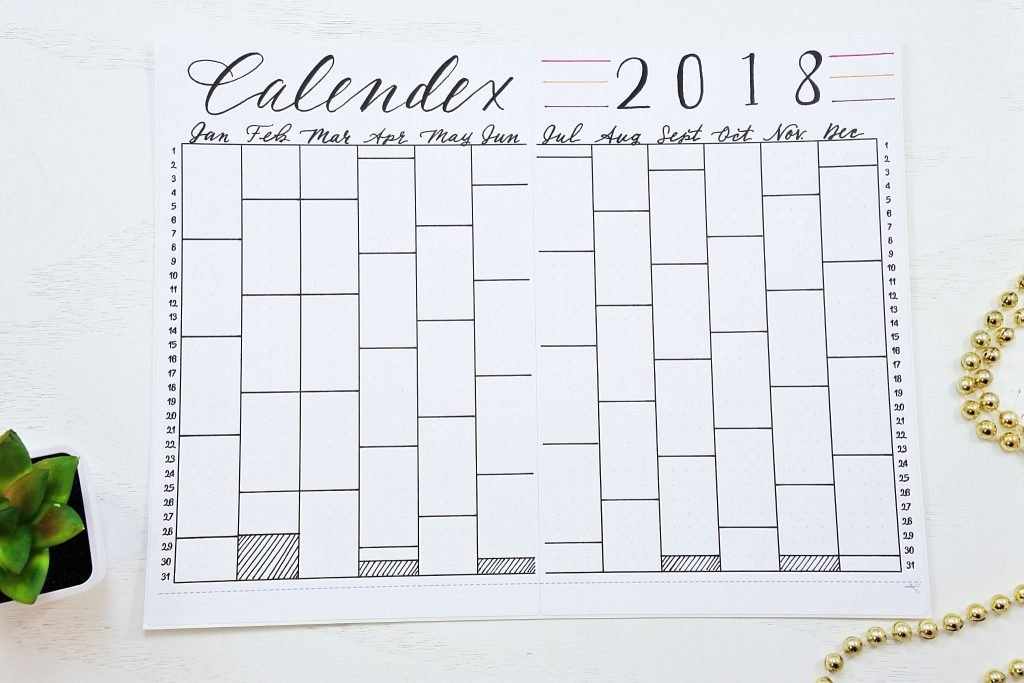 A calendex is a really neat layout that enables you to see every even for an entire year all in just one spread! The boxes represent every week of the year. The dates, 1-31 are along either side and the months along the top. When you receive info about a future event, write the info on your daily page. Then flip to your Calendex and find the date of your event. Each date has 4 available boxes, so you can schedule multiple things per day. In one of the boxes on your date, fill in the page number of where you've written the info for that event. Voila! This spread functions as both a Calendar AND an Index of your planner!
Convenient and cool as this spread is, it can be tedious to draw out on your own. That's why I've done the work for you! All you have to do is download and stick!
Future Log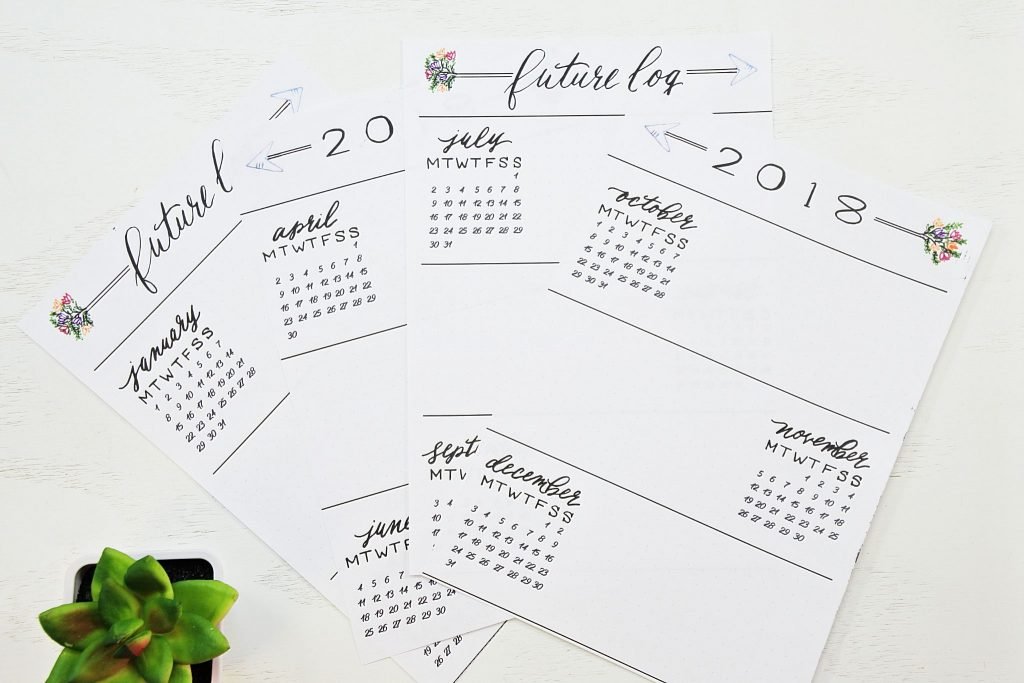 A future log is an index of future events that require no explanation. This would include birthdays, holidays, and standing appointments/events that you don't need any extra info on.
With a Key, Year at a glance, Calendex and Future Log, you've built the backbone of a rock solid planning system! You'll always have all the info you need, all in one notebook!
So are you ready to finally get organized and rock 2018? I'm offering this whole package in my new shop!
Click here to pick up your 2018 Bullet Journal Starter Pack!
And as always, I'm giving away some freebies! I want to make sure my readers are set up no matter what – that's why you can pick up the Hello 2018, Quote, Goals and Also Work on for FREE!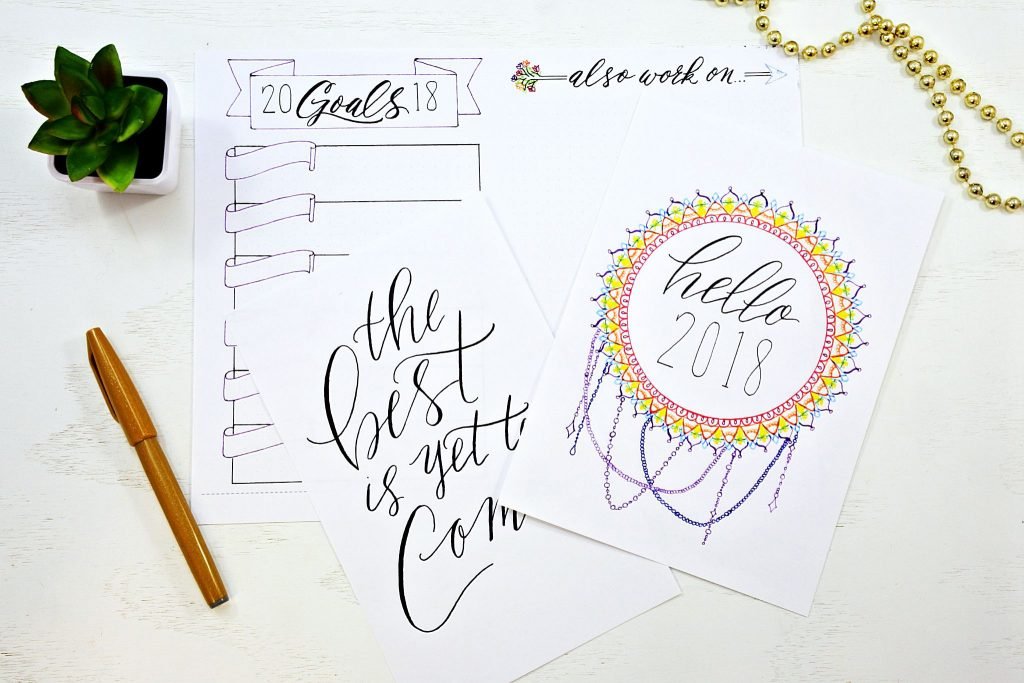 Click here to get your 2018 free printables!
January Monthly Planning Pack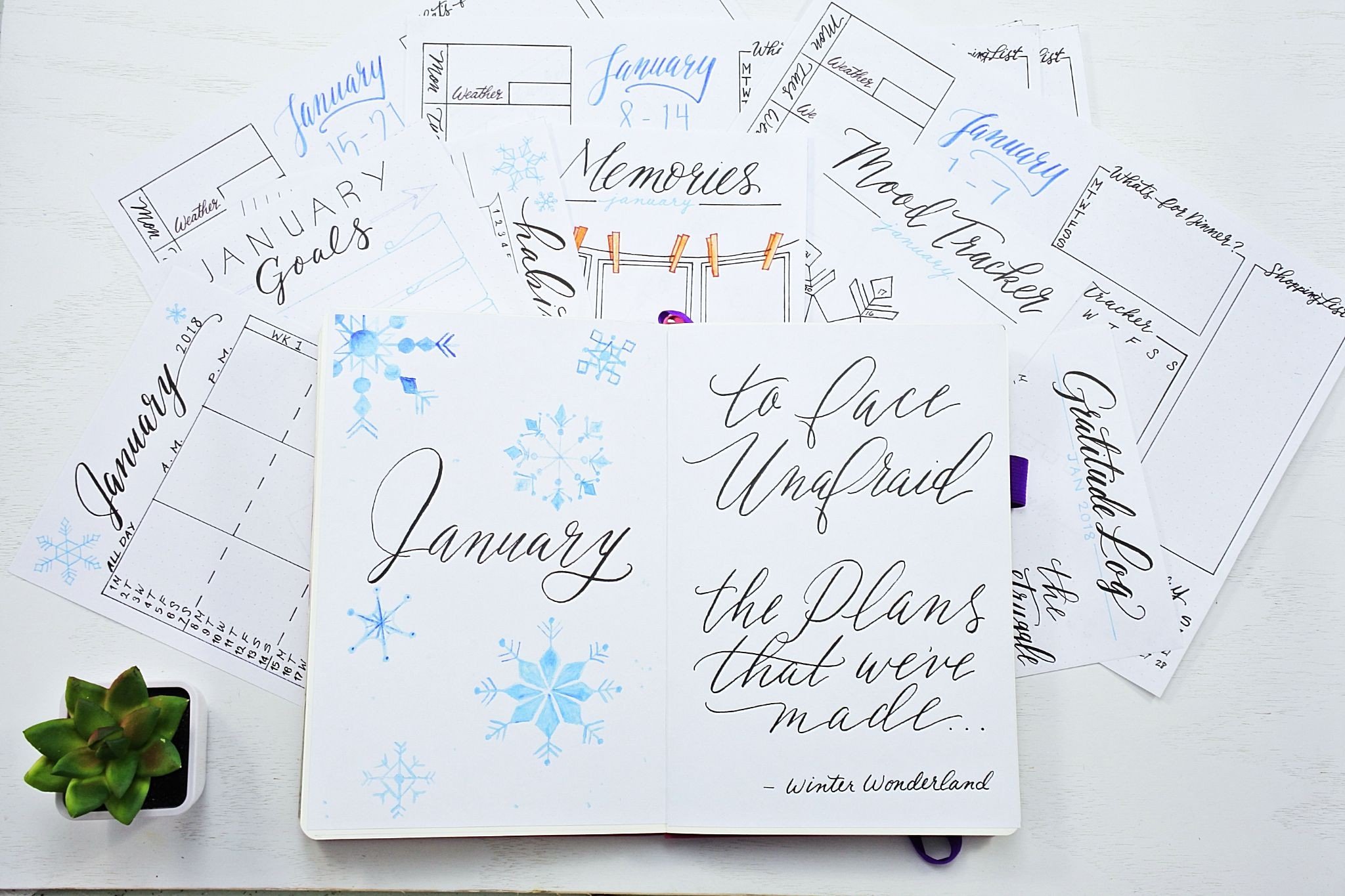 I've created a huge pack of 13 planning printables for January! Here's what you'll get in the January 2018 planning pack:
Hello January
Quote of the month
January Calendar
January Goals and Tasks
Habit Tracker
Mood Tracker
Gratitude Log
Memories Page
5 Weekly Spreads
Hello January & Quote of the Month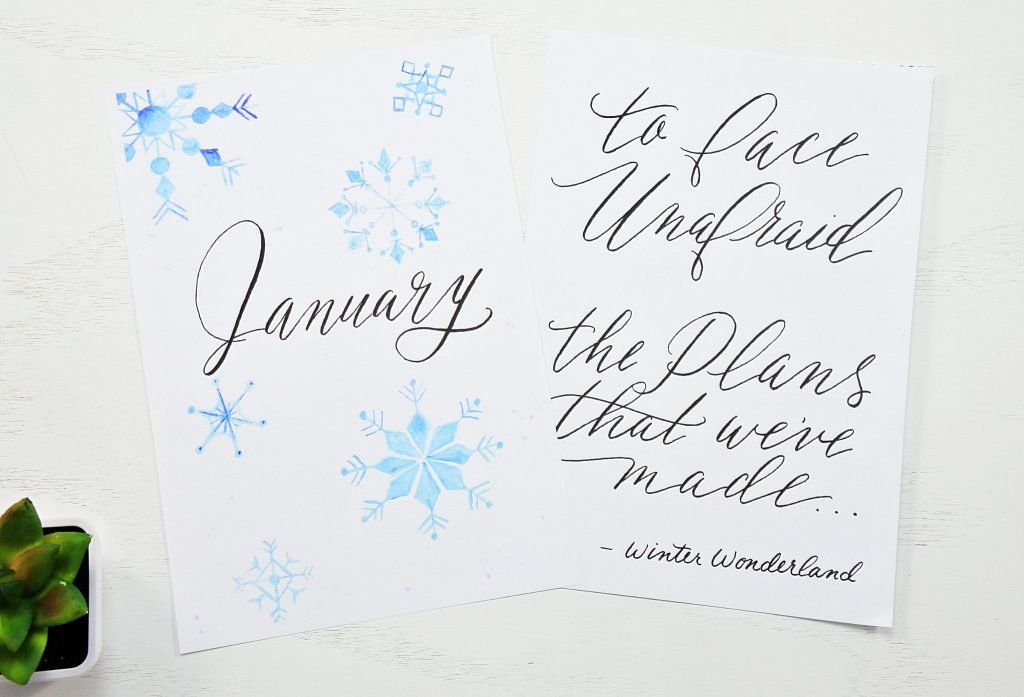 Not only do these fun spreads organize your journal by sectioning off each month, they also give you some monthly inspiration!
January Calendar, Goals, and To Do's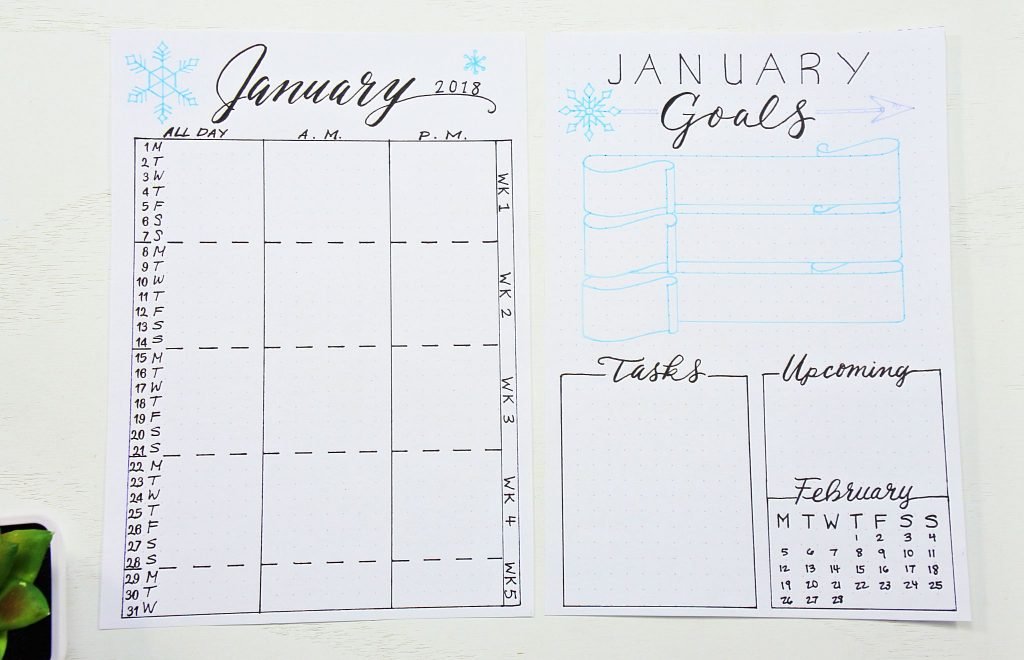 This month I've updated the monthly calendar to include sections for all-day events, A.M appointments, and P.M appointments! The weeks are also sectioned off so you can see at a glance how your month is shaping up.
There is also a section for adding what coming up next month so you'll be prepared for everything!
January Habit tracker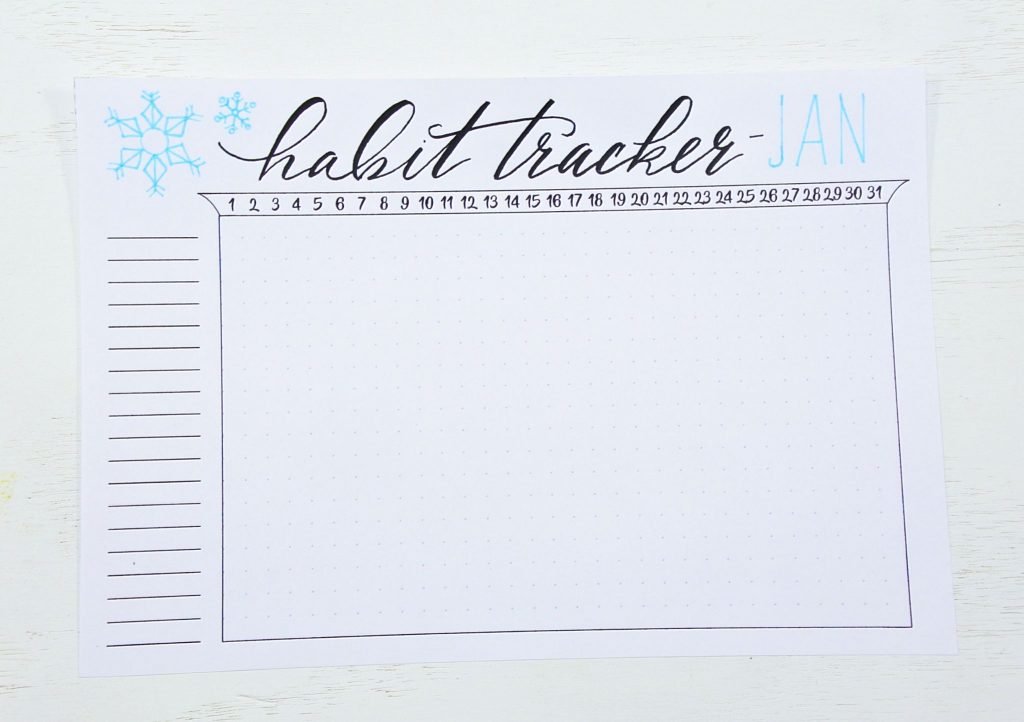 A habit tracker is one of the most useful spreads you can have in your planner! Keep track of habits you want to form over time and hold yourself accountable. Perfect for keeping up with all those New Years Resolutions!
Mood Tracker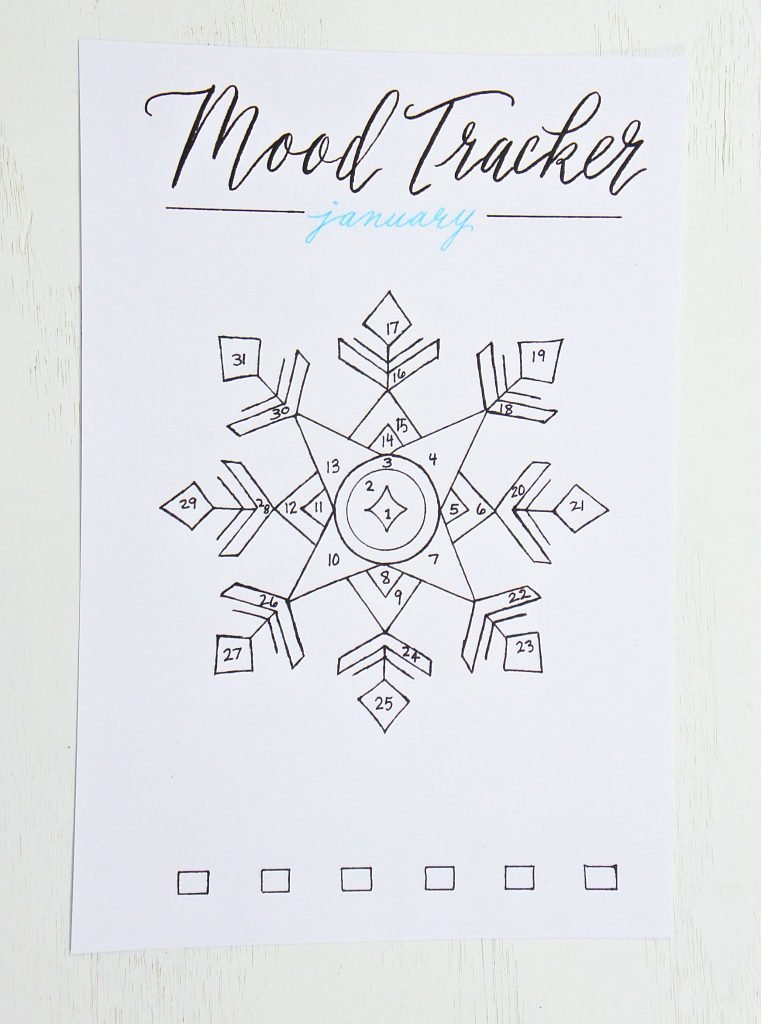 Mood trackers give you a visual of your moods for the whole month. They also allow you to identify patterns and triggers, so you can take more control of your moods. Fill in the boxes below with the moodds you want to track and pick a color for each. Then at the end of each day, fill out the section with day's number on it with your mood. By the end of the month these are super pretty and informative!
January Memories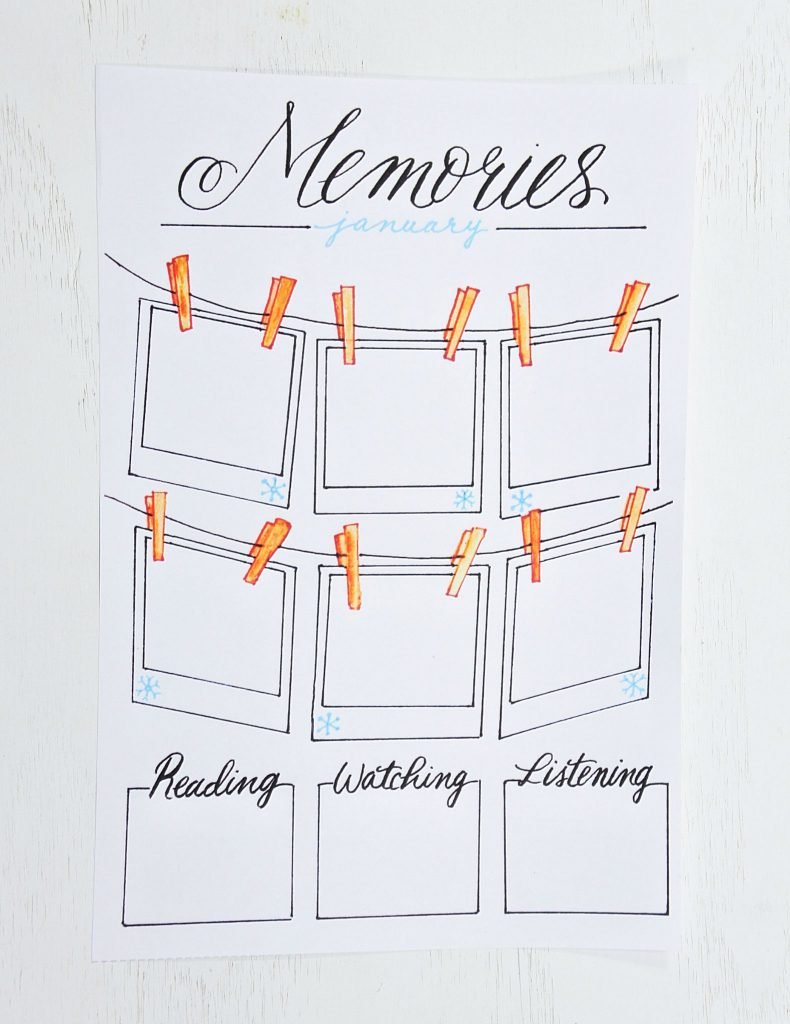 Keep track of experiences you want to remember with a Memories page! You can also fill in what you've been reading, watching and listening to. These are a nice record to have when you flip thru your old journals.
Gratitude Log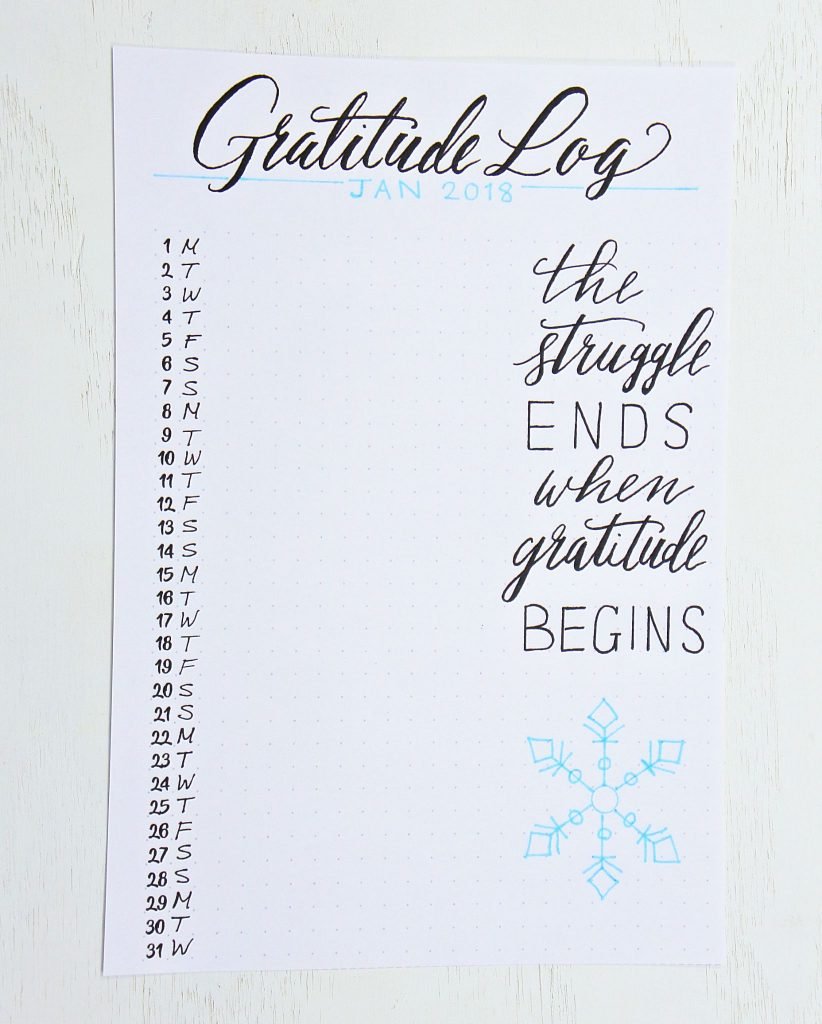 Find something to be grateful for everyday!
Weekly Spreads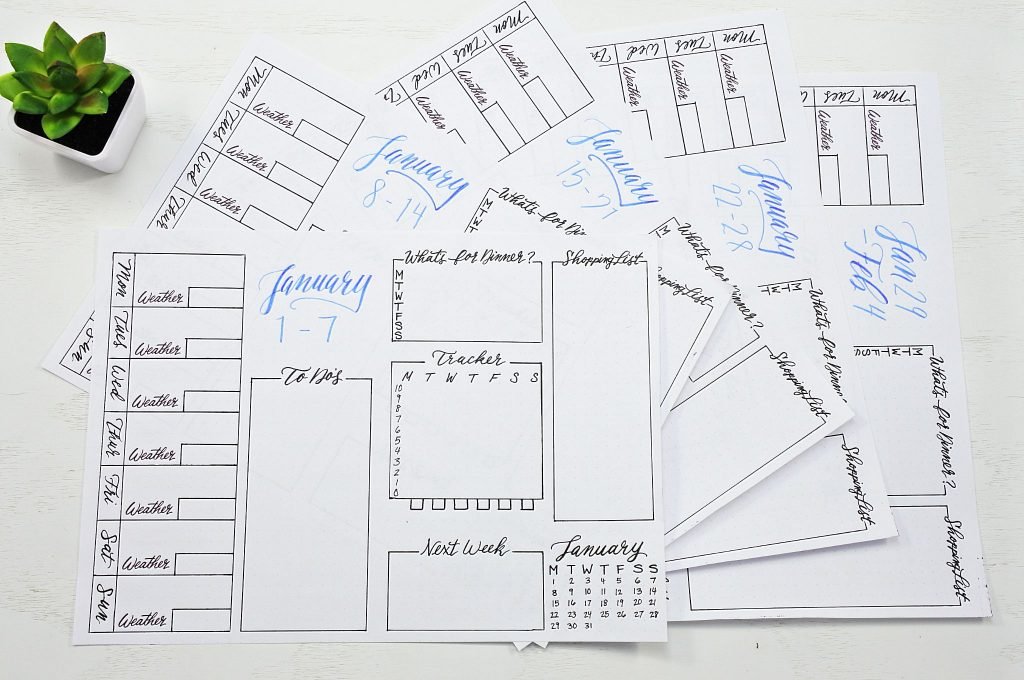 And Finally, this month's package comes with Weekly spreads! One for every week in January! Each weekly spread includes a section for your Weekly Schedule, To Do's, Meal planning, Shopping list, a Tracker (for things like water intake, hours of sleep, etc), and a section for Next Week.
Here's an example of how you can use the Tracker on your weekly spread.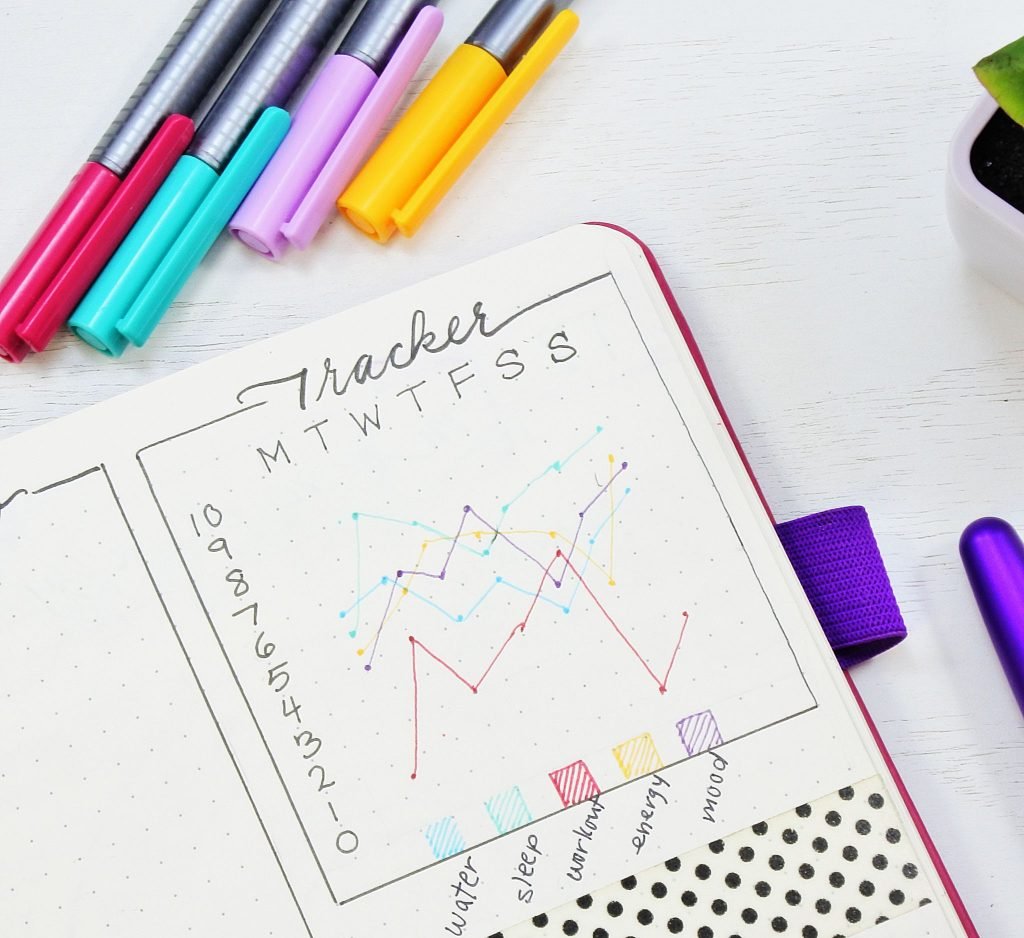 Assign things you want to track over the week like water intake, sleep, exercise, etc, and write those along the bottom. Pick a different color for each. Then put a dot under each day up to the amount you accomplished on the number scale. For instance, you see in the example on Monday  I drank 6 glasses of water. As far as exercise goes, Monday I didn't get a lot -so on a scale of 1-10 I gave it a 1.
These weekly spreads are the life's blood of not only getting more organized but also staying that way! Weekly planning is THE way to stay on track with your new year's resolutions! And now I've taken all the prep work out of it. Simply download and stick in your journal!
You can pick up this entire package in my shop! Click here to get yours!
And of course, I can't let you walk away without freebies. I'm offering the Hello January, Quote of the Month, January Calendar and January Goals and Tasks pages all for FREE!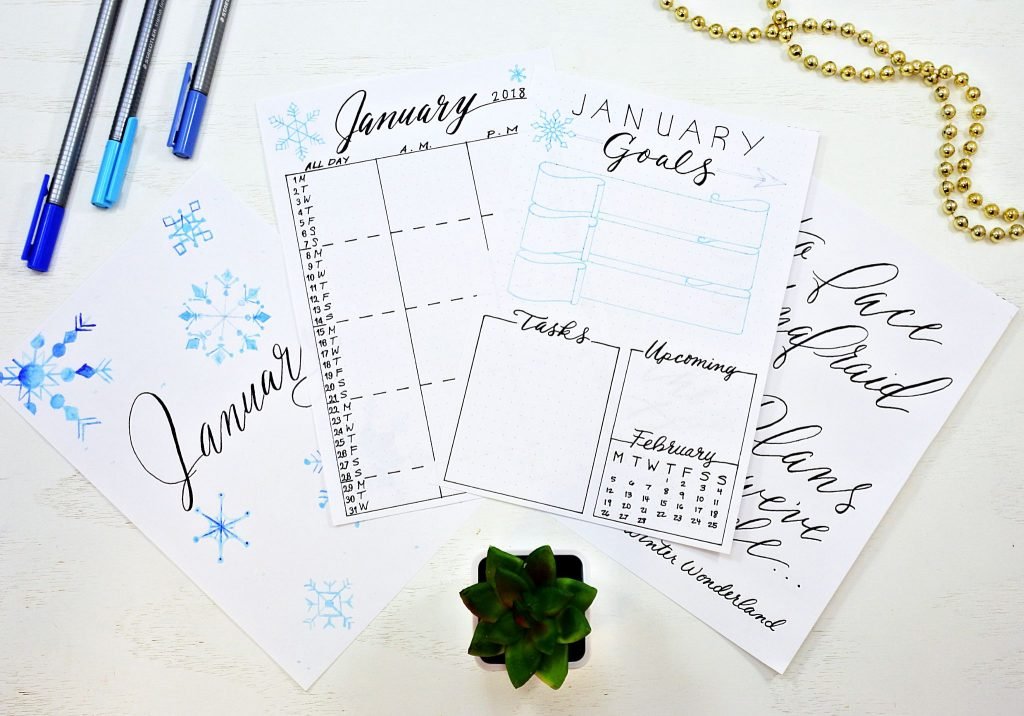 Click here to get your January free printables!
2018 Ultimate Combo Planning Pack
Want it all? Save money with the Ultimate Pack, and get ALL 25  pages to start your year off right!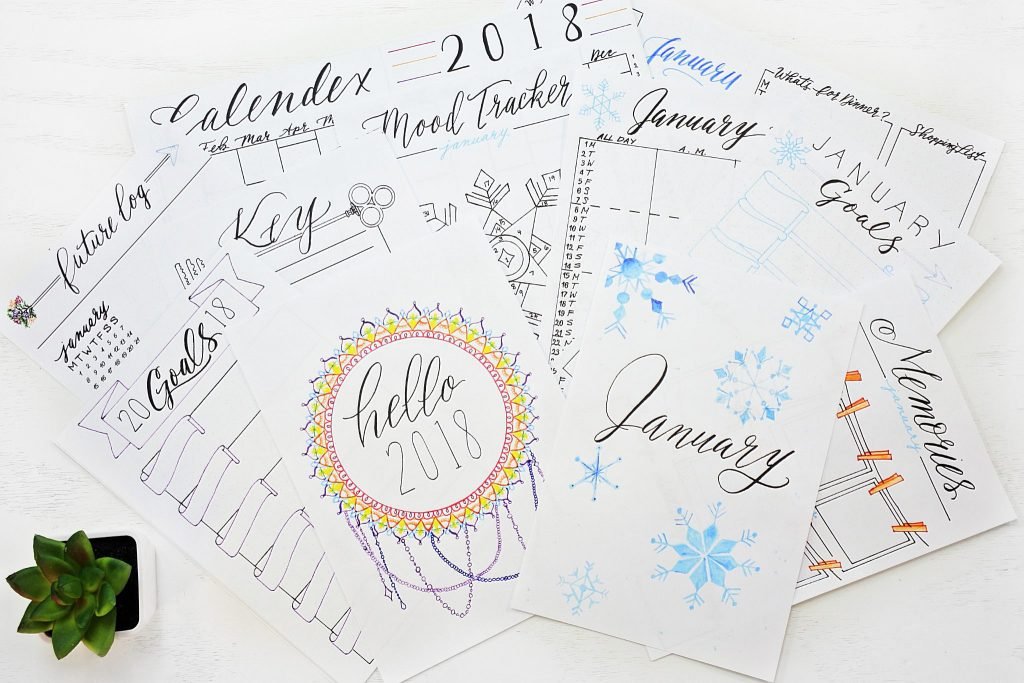 The Ultimat pack includes:
Hello 2018
Quote of the year
2018 Goals
Also Work On
Calendex
Key and Color Code
Year at a Glance
Future Log
Hello January
Quote of the month
January Calendar
January Goals and Tasks
Habit Tracker
Mood Tracker
Gratitude Log
Memories Page
5 Weekly Spreads
Man, that's a lot of pages! If you're committed to getting organized and crushing your goals in the new year, click here and grab this 2018 Ultimate Planning pack!
1