*As of January 2018, the 2017 monthly printables are no longer available. If you'd still like the Hello Cover Pages and Monthly Quotes, you can grab them by clicking here.  If you'd like the free printables for the current month, sign up below or click here.
February is here, and it's time to plan a new month in my Bullet Journal. Monthly planning has become an essential part of my routine. As a busy mom of three, one still in diapers, It's easy to get to the end of the month and wonder " Where did the time go?" "How am I this tired without having accomplished anything?" " Is that a cheerio stuck to my forehead?" These are the planning pages I use to avoid asking myself those questions. Except for the cheerio one. My planning routine has yet to save me from projectile cheerios. Some day, bullet journal, someday.
Yes, It's so easy to let a whole month get away from you and make no progress on your long-term goals. But once you know what you want to accomplish that month and what time will be available to you, it's a lot easier to break it down into small weekly tasks. This way you ensure that your big goals see some action, even in the busiest of months. Here is my basic method for setting up a new month, and how I make sure I don't lose track of those long term goals along the way.
Hello February/Quote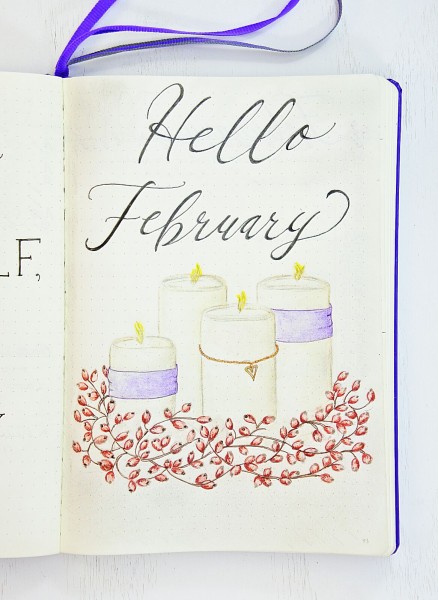 Every new month I like to sit down and draw out these "title pages". It gives me a nice transition from one month to another and a chance to set the mood. The month of February usually gets people thinking about love and relationships. I thought I'd take a little twist on that and focus on self-love. After all, as my quote of the month states, " If you don't love yourself, you can't love anybody else." Self-care is an often overlooked, but essential part of the ability to have healthy relationships with others. So go ahead, print this page out as a reminder to give the kid inside a big hug today. And treats – definitely treats.
February Calendar
This spread allows me to see all the events coming up in the month of February. This is a simple layout as originally designed by Ryder Carroll. I can see the whole month at a glance and fill in events as they come up. I always fill this out first before I decide what goals I want to pursue that month.  It's important to see how much time you really have available before you overwhelm yourself with big expectations.
Goals and Tasks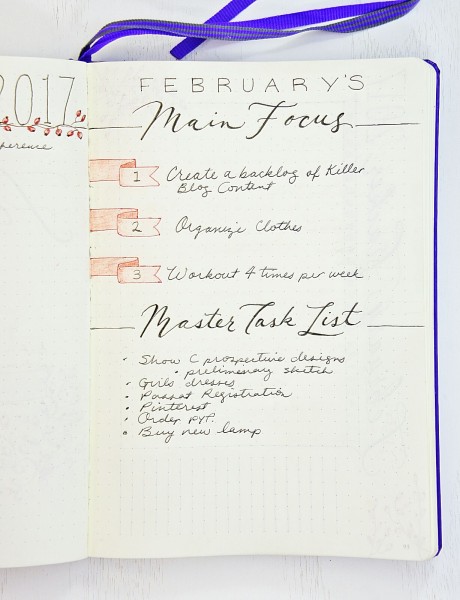 On the page next to it, I fill in the goals and tasks for the month. This month I've decided to add a section for my main focus. This helps me to stay focused on my priorities and avoid getting caught up in all those pesky day to day tasks. I tell myself if you do NOTHING else this month – Do THIS! I see it as a little fail-safe against the constant onslaught of kids and minutia.
Under that, I have my Master Task List. This is where I can dump my brain out onto the page and list anything and everything that could, should, or needs to be done this month. This can range from important time sensitive things like renewing your car tags, to random reminders like buying a new lamp. While doing my daily planning, I can refer back to this list, and add the tasks to days with a little wiggle room. Slowly but surely, I can accomplish what I set out to do in one months time.
February Tracker
If you're new to Bullet Journaling, a tracker is a spread people use to track their habits. Many call it a Habit Tracker. This is a great place to track household chores, especially the ones that tend to get away from you. When IS the last time you cleaned out the fridge? With this handy spread, you'll never have to guess again. That's….good? Well, maybe leave the fridge cleaning thing out. This is also a great place to encourage yourself to build new, healthy habits. Here you can track how often you stick to that new workout routine or got to bed on time. What gets measured gets managed, and this is an excellent tool to do just that. You can download this as a free printable, and start tracking your habits today!
Short and sweet, these 5 pages keep me on track month to month. In the coming months, I'll be posting examples of other nifty Bullet Journal spreads that you can add to your monthly productivity regime. Fitness trackers, Food logs, Meal planning, a Gratitude Log. Depending on your personal goals, any and all of these can be a fantastic part of your journal. But in the interest of simplicity,  starting with the basics above can put you on the road to Bullet Journal bliss. All the pages I've shown you today are available as free templates! Sign up below to get access to my library of free printables and resources. I'll have a new package available every month!
If you've already signed up, you can click here and enter your password.
---
Sign up here for Your Free February Printables